News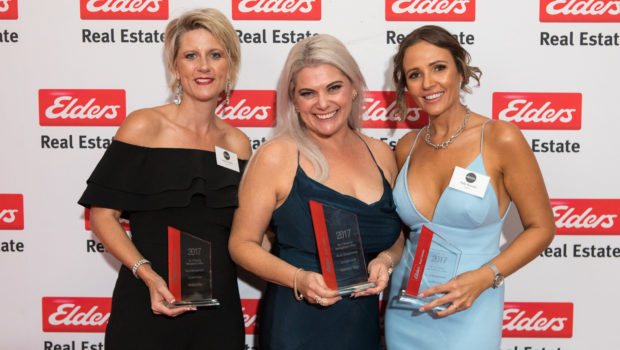 Published on April 18th, 2018
2017 ELDERS NTH NSW/QLD AWARDS
It's never a dull moment for Elders Real Estate Grafton when they attend their NTH NSW/QLD Annual Awards and this couldn't have been truer last weekend when they took out 14 awards.
The Gala event was held Saturday 10th March, 2018 at the Rainbow Room, CLOUDLAND in the heart of the Fortitude Valley where Elders Grafton Director and Sales Manager Kylie Pearson represented the team.
Kylie commented that their greatest achievement was the fact they made the Top 10 Offices NATIONWIDE. "Considering our town has suffered a huge lack of sales stock over the past couple of years, this result could not have been achieved without our entire sales team (agents and support) working at 100%".
Kylie commented that the team has never been stronger and that reflected in the fact that all senior salespersons in the company were well-recognised as leaders in their field. There were in total 8 Awards spread amongst the sales team with Kylie Pearson taking out #2 Principal for settled sales, Dave Dart finding placement in the top 5 sales agents for both gross commission and settled sales and Terry Deefholts finding a firm placement in the top 10 for settled sales and gross commission also. Agents were awarded with the highest accolade being Elite Status for 2017.
Kylie commented that the heart of any great Real Estate business is by far the rent roll and she couldn't be prouder of the Property Managers who are always working at capacity. "These ladies are our greatest asset and have organically grown our rent-roll at a steady rate over the last 18 months". Kylie confirmed that the property management division were awarded 3 awards for 2017 being for number of lettings, number of new managements and acknowledgment of being the second largest property management office in the group.
When asked what their secret to success was Kylie said "It's the culture of our team". "We train together, we work together, laugh together and at times have even cried together" Miss Pearson said. "When staff are well considered and well trained they can give our clients their best – happy clients create referral business and that's the platform Elders Grafton is built on".