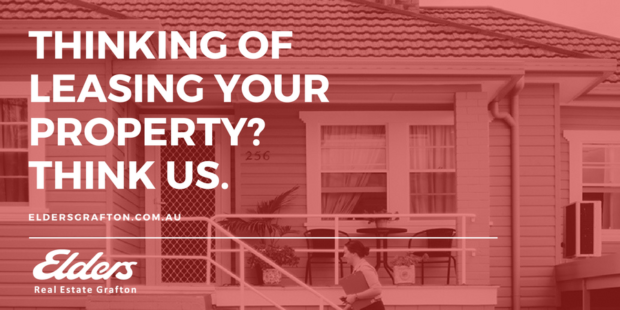 Landlord Info
VIEW OUR PROPERTY MANAGEMENT GUIDE ONLINE
Our Enquiry Guide contains everything you want to know, everything you need to know, and everything you never thought about until now. The Elders Real Estate Grafton Property Management Booklet is created and updated by the fresh PM Team at Elders Real Estate, Grafton, NSW 2460.
You can view the guide online via your phone, tablet or browser on the Elders Real Estate Grafton Issuu page:
Effective Marketing
Elders Real Estate look for the "right" tenant.
We have extensive experience in marketing and can expose your property to the widest possible number of prospective tenants.  Elders Real Estate's marketing program attracts a huge number of enquiries
Careful Tenant Selection
Our specialist staff are totally focused on finding the best tenant in the quickest possible time.  At Elders Real Estate, Grafton our job is to get the best possible tenant for your investment property.
A detailed screening process is applied to all prospective tenants and all references are carefully checked.
Thorough Agreement Preparation
Once the tenant has been approved for your property, we will arrange for the signing of the Residential Tenancy Agreement and the lodgement of the Rental Bond, as well as the handing over of the keys.
All documentation is carefully checked for accuracy to ensure the owner's legal rights are protected.
Initial Inspection
Prior to the signing of a Residential Tenancy Agreement we carry out a carefully detailed condition report. This report outlines the condition of the premises and is used as a reference for comparison when the tenant vacates.
Regular Inspections
Included in our management fee are periodic inspections of your property. Each time your property is inspected it is automatically diarised for the next inspection. Inspections are carried out at 3-6 monthly intervals.
Following a periodic inspection, we forward you a written report detailing the condition and recommend routine maintenance or optional work such as repainting or carpeting.
Final Inspections
After the tenant has vacated the property we will conduct a thorough inspection to determine the refund of the tenant's Rental Bond. If there are any discrepancies with the final inspection, these will be discussed with you prior to any bond being refunded.
Prompt Rent Collection
Paying rent is hassle free for our tenants who are given multiple methods in which rental payments can be paid. Rent is due weekly and contrary to other states, in NSW, rent does not have to be in advance, only up to date.
Strict Arrears Control
We print an arrears report weekly so that the tenants who fail to pay their rent on time, for whatever reason, are contacted on a constant basis.Those that do not respond are served with reminder text messages and warning letters, explaining that if they fail to pay, or do not contact us to make arrangements to pay, they will be served with a Termination Notice which gives them fourteen days to vacate.
This is usually sufficient incentive to get most tenants to pay their rent. However, should these warning letters fail to bring results we will contact you to discuss the matter as whether to proceed with the termination of the tenancy. A termination can be issued once the tenant is 14 days in arrears.
Repairs and Maintenance
We monitor repairs very closely. We act on repairs according to your instructions in the Management Agency Agreement. Should any repair of more urgent nature be reported, such as no hot water, we will attend to this as soon as possible as these are essential services.
We maintain complete records of maintenance carried out to your property for future reference.  Repairs carried out on your behalf are paid for from the rent monies held in Trust.  Full details of the repairs are printed on your monthly Rent Statements with a copy of the relevant invoices attached for your records.
Timely Paying Of Outgoings
From the rent collected on your behalf, we can arrange payments of all the standard property outgoings as you instruct in the Management Agency Agreement. Such accounts include council rates, water rates and invoices for any repairs carried out on the property.
Managing the Tenant
It is our duty as your Managing Agent to ensure that the tenants are well informed as to what is expected of them under the Tenancy Agreement. From the regular mowing of lawns, to the payment of rent, to the behaviour of visitors to the property or the control of noise – we manage the tenant for you ensuring as much as is possible, that the terms of the Tenancy Agreement are complied with.
Accounting to You
We prepare and forward you a detailed monthly Rent Statement for your property. The Statement details the rent period, the rent collected and any disbursements made on your behalf.  Your rent monies can be electronically deposited into a nominated account. You have the option of receiving your rent once a month or twice a month. These transactions are processed on the 15th and last business day of the month. Please allow 1-2 days for your bank to process.
Disputes with the Tenants
Disputes between landlords and tenants are not uncommon, but if handled with professionalism and diplomacy, most can be solved expediently.
Most disputes arise over rent increases, repairs and rental bond matters. Initially, of course, the property manager acts as negotiator in discussions between the landlord and tenant. If all avenues are exhausted, and the parties have not been able to agree, it may be necessary to apply for a Tenancy Tribunal hearing or NCAT as it is called in NSW.
The Tribunal is an independent third party similar to a court hearing which will hear the dispute and make a decision on the matter.  We, as your agent can represent you at the hearing, preparing the case from start to finish. Preparation may include obtaining quotes and taking photos of the property (in case of bond disputes) or researching rental market comparisons in the case of disputes over rent increases. The findings of the Tenancy Tribunal are final and may not always be to your satisfaction, so it is almost always beneficial to try and solve the problem in it's early stages.
Constant Communication
As an effective service organisation we should always be available when you want to talk to us.
The Property Management department is open from Monday to Friday 9.00am to 5.00pm.
Sales
Our office has an enviable sales reputation constantly achieving excellent results and prices for our clients.
We will provide you with, if you require, a written annual market price opinion of your property at no cost or obligation to you.
Legal Requirements
It is our duty to ensure that all of the requirements of the various pieces of Government legislation relevant to property investment are complied with. We will be sure to inform you of any relevant change in legislation that may affect your investment to ensure your home is compliant.
Industry Affiliation and Training
Everyone in our Property Management Team is regularly kept up to date with the latest legal and market information.
All members of our Property Management Team are put through a structured, on-going, professional development program to ensure that their knowledge and skills are always at the peak of the industry.
Commitment
Our commitment to you is to look after your property as if it was our own.