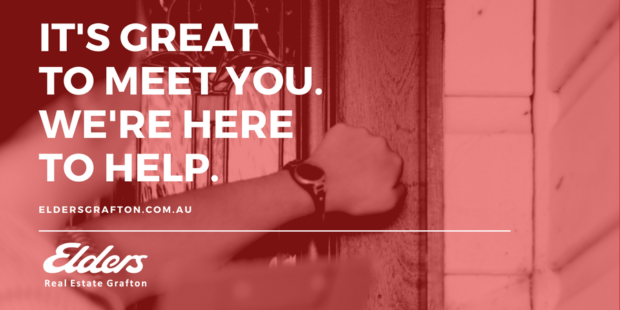 Renting Info
Tenant Services
The following information will assist you in dealing with Elders Real Estate, Grafton and ensure a trouble free tenancy:
Property Management Office Hours
Monday to Friday, 9.00am to 5:00pm
70 Pound Street, Grafton
P: 02 6642 1122
Rental Payments
Unless other arrangements are made, rent under your Residential Tenancy Agreement will be payable in advance as specified on the Lease Agreement.  If at any time you are unable to make a rental payment, on or before the due date, please make immediate contact with your Property Manager. Our office accepts rental payments via internet transfer into our nominated bank account, personal and bank cheque. Please ensure payments are kept up to date every week, as your payment history is recorded and requested from other agencies should you choose to move in the future.
Rental Bond
Your rental bond will be lodged with the Residential Tenancies Bond Authority.  The bond is held as security against any damage or undue wear and tear. The bond will be refunded promptly after you vacate, provided the property is left in as close as possible the same condition as when the Residential Tenancy Agreement commenced (allowing for fair wear and tear), and there are no other monies owing. A bond equalling the amount of four full weeks rent must be paid prior to commencing a tenancy.
Periodic Inspections
During the course of your tenancy the premises will be inspected periodically by Elders Real Estate, Grafton. Our office will contact you in advance to make arrangements. You will receive written notification prior to your inspections and if you are not home we will use the office key for access. Our inspections officer may take photos to accompany the report.
Keys
In some cases we may hold a duplicate key for your rented property.  Under special circumstances, and upon producing identification, the key may be borrowed during office hours (Mon-Fri 9.00am-5.00pm and Sat 9.00am-12.00pm) should you lock yourself out and must be returned within twenty-four (24) hours. In the event of a misplaced key please call the office to ascertain if we hold a duplicate set. It would be advisable that you make private arrangements regarding the location of a spare key should you inadvertently lock yourself out.
Insurance
We strongly urge you to insure your personal possessions against any loss, damage or theft. The landlord has no obligation to insure your personal belongings.
Electricity, Telephone and Gas
It is each tenants' responsibility to have the appropriate account placed in their names, and then arrange to have a meter reading prior to vacating the premises.
Repairs and Maintenance
All repairs are to be put in writing. You may obtain a repairs and maintenance request form at our office or scroll to the bottom of this page where you will find a link.
Only emergency repairs will be accepted verbally.  All repairs are attended to as promptly as possible, however, it is often necessary to obtain the Landlord's approval and or quotes before any work can commence, so unfortunately a time lag is sometimes unavoidable.
Where you rent a house or unit, the upkeep of the gardens and grounds are your responsibility. Please do not store unnecessary paper, rubbish, bottles, cans, etc. on or around the premises as these can attract vermin.
Termination of The Tenancy Agreement
Your Residential Tenancy Agreement is a legal and binding contract, providing protection for both you and the Landlord.
The Residential Tenancy Agreement can be terminated by you in the following ways:
a) If you intend to vacate at the end of your Residential Tenancy Agreement, you are required to give 14 days written notice prior to the expiry of the fixed term of your Agreement.
b) Once the fixed term has expired, you are at liberty to continue living at the property or to vacate. If you are on a 'continuing' or 'periodic' tenancy where the fixed period has already expired you are then required to provide 21 days notice to in writing.
If, however, unforeseen circumstances arise and you have to vacate prior to the expiration of your Residential Tenancy Agreement, please contact your Property Manager immediately to discuss your options in regards to 'breaking your lease'. All notices must be received in writing and will not be accepted verbally. Notice is taken from the date our office receives written notification of your intention to vacate.
Please ensure that any other occupants of the property also read this information above.
Please click here to download a Tenancy Application form

Please click here to download a Repairs & Maintenance Request form