Benny Holder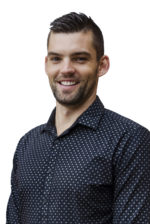 Sales Associate to Kylie Pearson
Benny is without a doubt an individual that has a genuine care for the well-being of others. From his extensive work within not for profit organisations and his genuine intention to give back (such as his former role as a Youth Pastor), Benny was identified as having the values of an Agent and on a daily basis we see these virtues expressed with our Vendors and Purchasers.
Benny has big dreams and is a conscientious, level headed agent. In for the long haul, Benny is constantly searching for new models of growth and is proud to be building his reputation and portfolio on trust and respect.
Communication is smooth with Benny and he has a calm approach to all facets of Sales. Relationship building, negotiation and a prompt resolve to any dispute maintains a happy relationship between staff, clients and the many people he deals with on a daily basis.
If you are looking for an Agent to ensure your Sale is handled with the utmost respect and care we encourage you to call Benny.
02 6642 1122
02 6642 1321
0411 132 517